UniFor renews its relationship with two of the world's leading architecture firms, FOSTER + PARTNERS and SNØHETTA, presenting XYZ by Foster+Partners and Bokhus by Snøhetta.

Installation by Ron Gilad
Books, bookcases and libraries are the leitmotiv of UniFor's presentation for Milano Design Week 2023.
The conceptual grid, drawn by the rhythm of horizontal lines and sharp diagonal cuts in Herzog & De Meuron's architecture for Fondazione Feltrinelli can be found inside the UniFor Showroom. These geometries are the basis of the spatial installation created by Ron Gilad on the occasion of Milano Design Week 2023.

A maze of elements creating a system of ever changing random sub-spaces, made of passages and rooms, which contain islands of tables.
In a spatial dialogue with the bookshelves, a sculpture has been placed in the outdoor garden of Via Pasternak. A minimalist metal structure representing the idea of interaction between books and shelf, in an absurd moment, frozen in time.

- Ron Gilad
Bokhus by Snøhetta
With a research initiated in 2019 UniFor and Snøhetta, have joined their DNA in the exploration of the world of libraries and their future resulting in a series of objects aiming to reshape the meaning of libraries.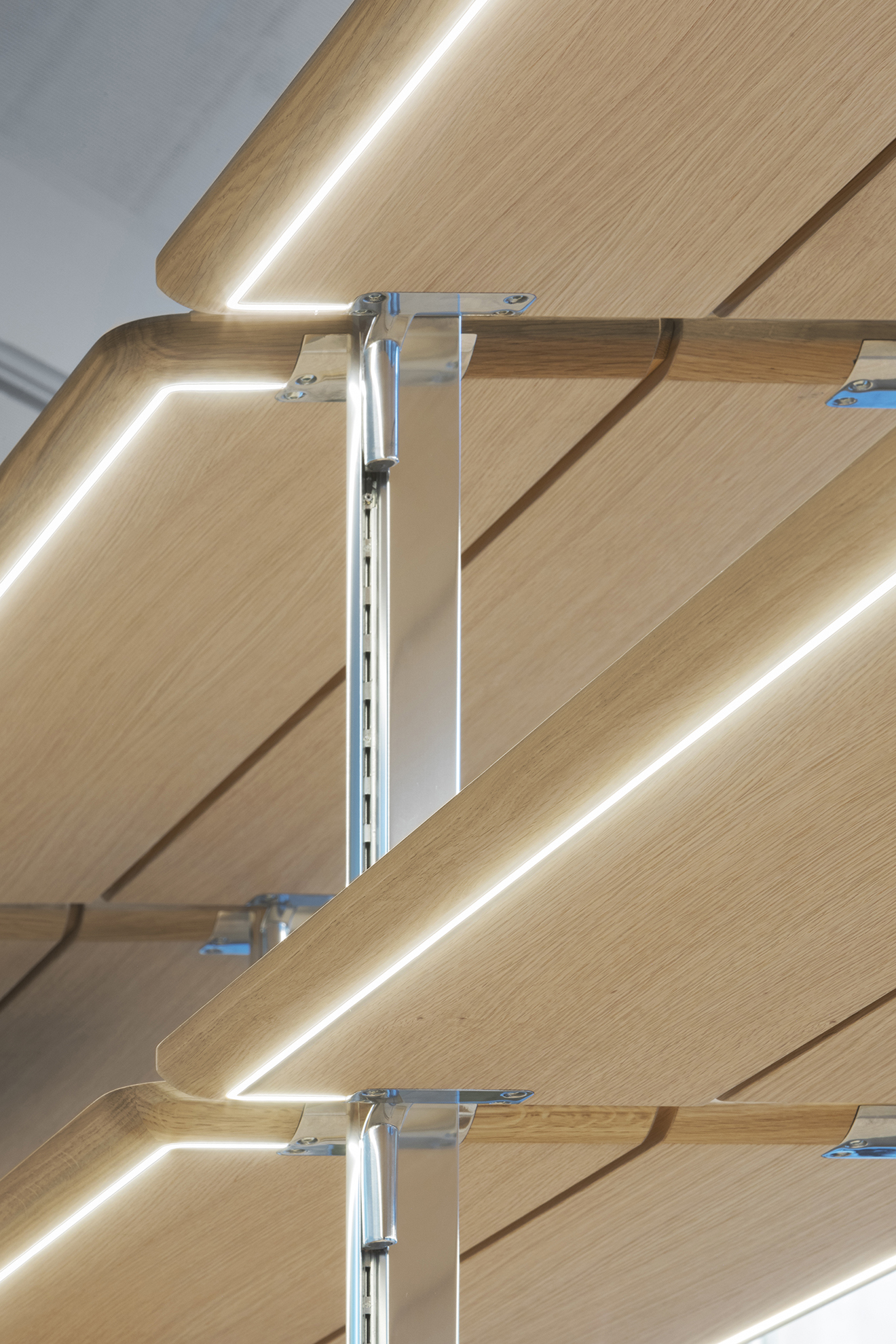 The first element in the collection presented at Milano Design Week 2023 is Bokhus: a shelving system combining Italian craftsmanship and engineering, with Scandinavian simple elegance and tactility.
A union of simple shapes and complex details, skilled use of materials that combines the technicality of metal and the warmth of wood; the symbiosis between form and function.
Open, lightweight, flexible, the Bokhus shelving system is composed of terminal and central uprights with a concealed rack allowing for the free configuration of the shelves.
The use of recycled aluminium, wood and cellulose make Bokhus a sustainable product. The production technique allows for each element of the product to be separated and appropriately recycled and disposed of.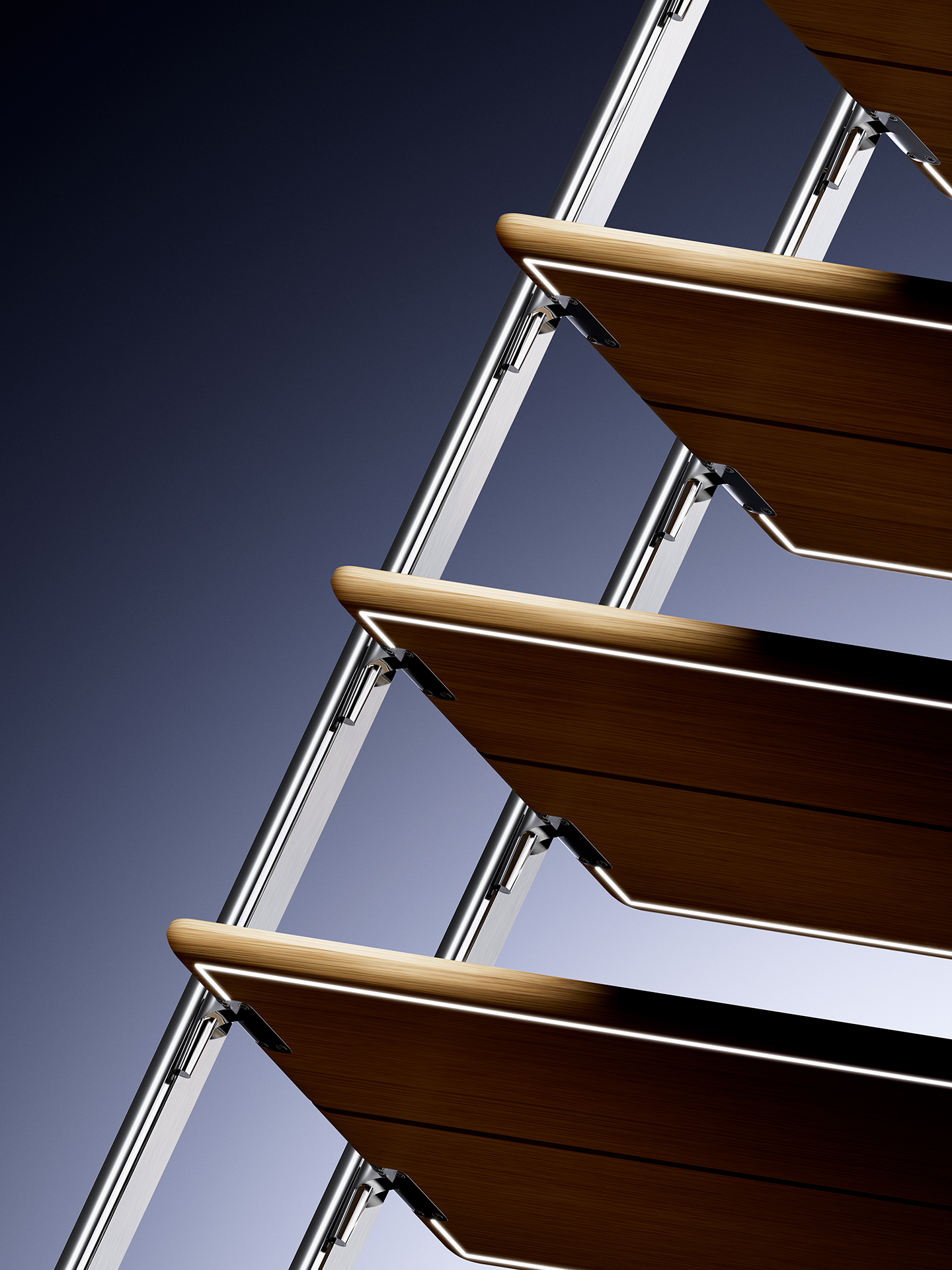 "The Bokhus shelving system is designed for libraries. All design choices have ultimately been made to accommodate and celebrate books. It is important to create a space where books are still valued and celebrated, a social hub where people spend time."

- Snøhetta
XYZ by Foster + Partners
XYZ is a flexible office system that creates more agile and tailored workspaces. The pared-back, modular system includes a shelving unit (X), lightweight conference table (Y) and an intuitive sit/stand desk (Z), which work individually or as a set.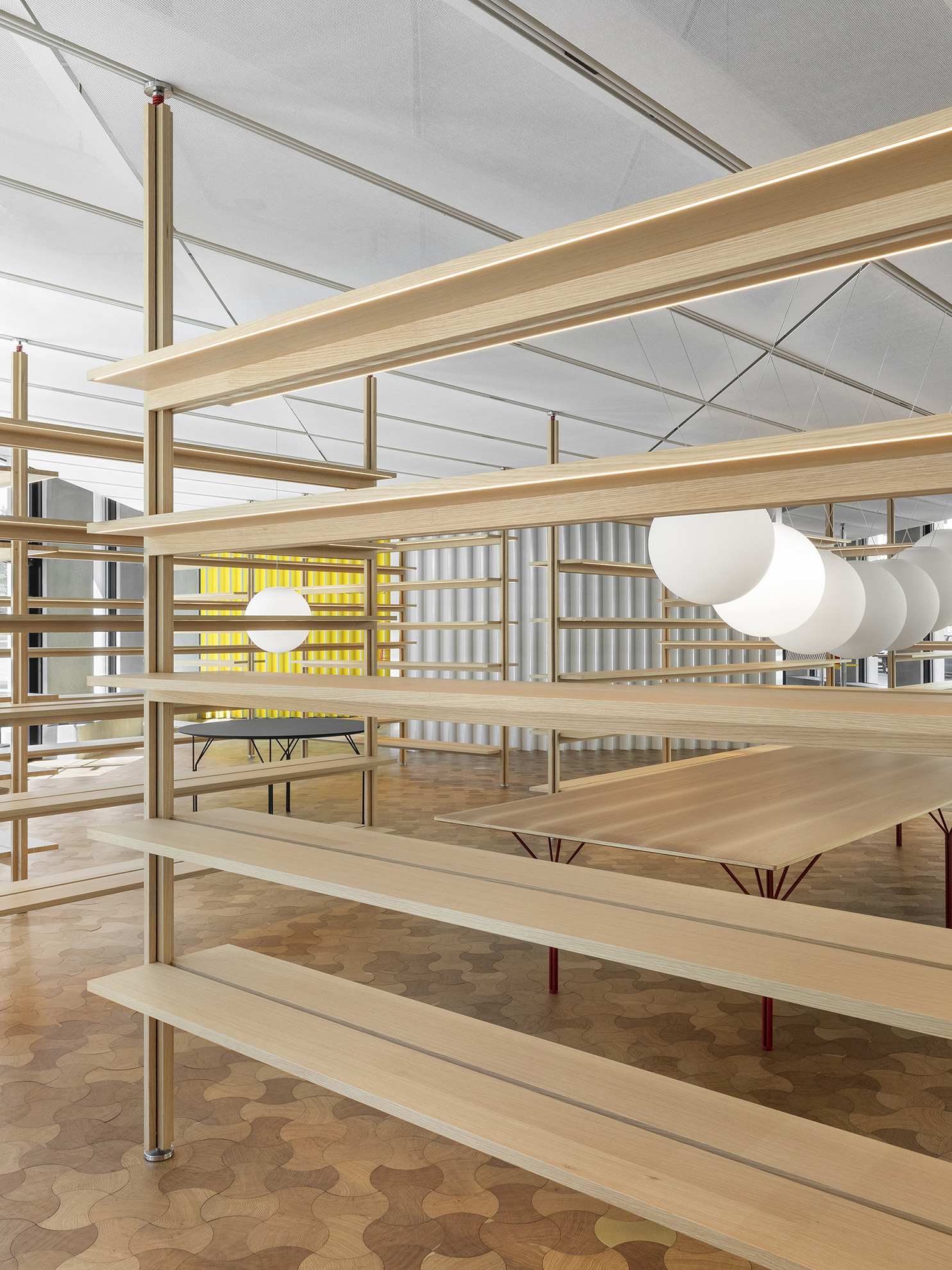 Named after its distinctive x-shaped timber or aluminium post that forms the primary structure, the X shelving units can be used to reconfigure any workspace, producing open partitions which allow for clear lines of sight through the space.
Workplaces have the option to create more defined and private areas, while maintaining a sense of place and community.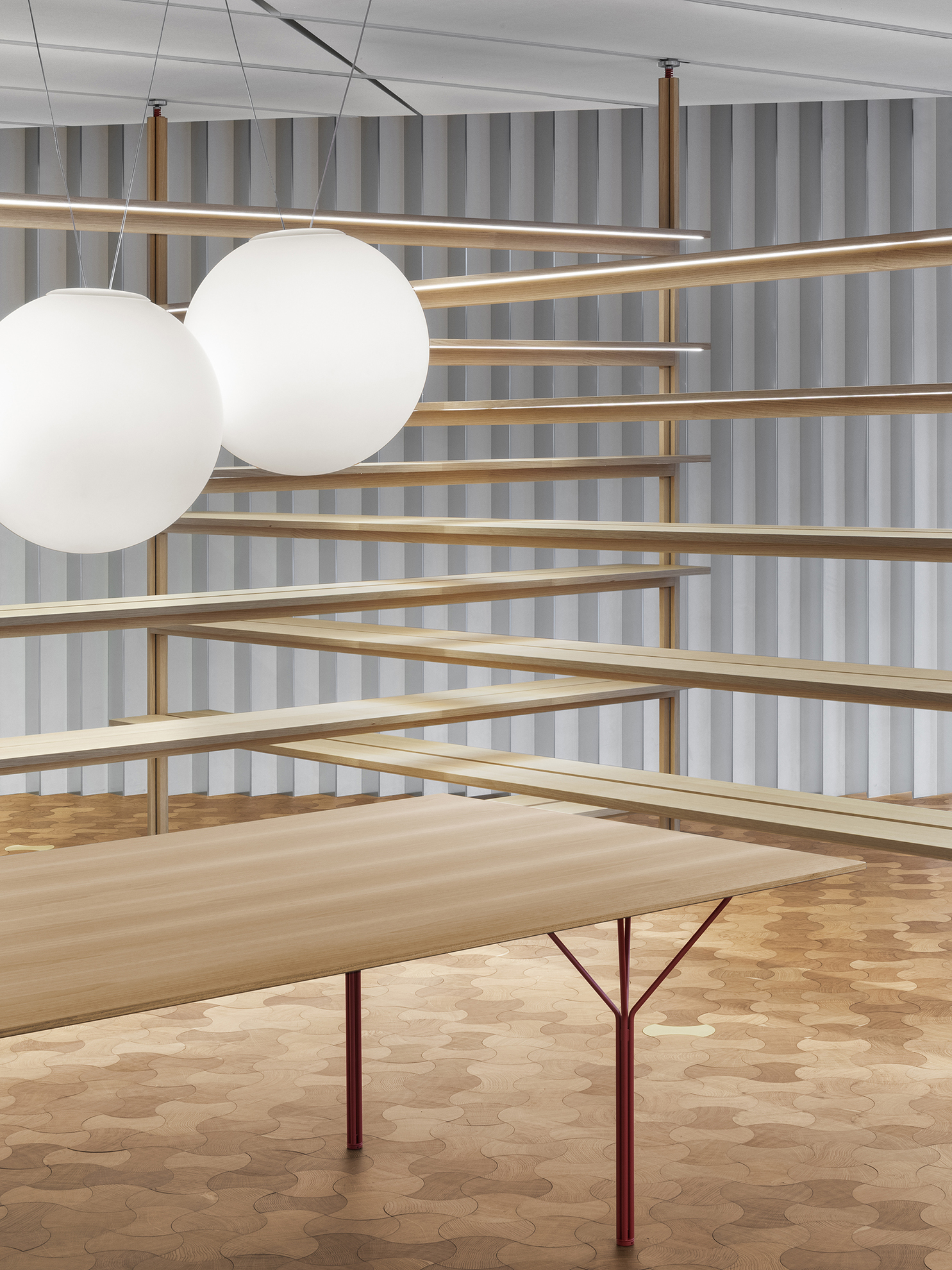 The Y Table is a lightweight, reconfigurable table system, designed to use minimum material while offering maximum support. Its Y-shaped, steel legs can be easily reconfigured to allow for different seating arrangements and removed completely for transportation or storage.
"Underpinned by a human-centric approach to office design, the XYZ system allows everyone to fine-tune their working environments to meet individual requirements, which can have a profound effect on mood and general wellbeing in the workplace."

- Mike Holland, Senior Partner and Head of Industrial Design, Foster + Partners
Boundless Shelves
AI Infused Literary Exploration by Snøhetta for Milano Design Week 2023

Drawing inspiration from Raimond Queneau's "Exercises in Style" from 1947, the digital installation conceived by Snøhetta and inspired by Studio Klass, art directors of UniFor, explores the AI ability to generate specific literary variations around Bokhus, the bookshelf system designed for UniFor launching during Milano Design Week, and the world surrounding it.
By showcasing AI generated text on monitors integrated into the shelving system, the installation highlights the potential of technology to transform the way people interact with information and access knowledge. The combination of technology and design represents an exciting vision for the future of libraries.

As libraries continue to evolve and adapt to changing technology and user needs, so the AI could become an increasingly valuable asset, offering users a new level of interaction with the library's collection, providing personalized recommendations and answering questions in real-time.
UniFor's expertise in the fields of culture and education
Books, bookcases and libraries have become the leitmotiv that unites UniFor, Foster + Partners and Snøhetta during Milano Design Week 2023. Since the early 2000s, UniFor has furnished some of the most significant international libraries with standard or entirely bespoke elements.
From the library at Ca' Foscari University in Venice to the Qatar National Library in Doha, including the Bibliothèque Chaillot in Paris, the Vasconcelos Library in Mexico City and the Oodi Helsinki Central Library.
The fit-out project for the National Library of Israel is currently under way. Once again, UniFor has demonstrated its unique ability to interpret the spirit of time and space, by developing products that accommodate the changes in settings where new social behaviour and ways of enjoying the space are developed.
Snøhetta and the world of libraries
For more than a quarter of a century, Snøhetta has explored spaces dedicated to cultivating knowledge with the design of new libraries, museums and educational buildings. In 1989, Snøhetta's first commission, the Bibliotheca Alexandrina in Egypt, provided several platforms for this way of thinking. The great outdoor square provides a practical and symbolic connection to the building's surroundings, facilitating public gathering and expressing that the library is more than an archive.
Inside, a series of thresholds from a low, understated entry lead the visitor to a huge reading hall in a range of intimate to open spaces, engaging the user's senses and intellect.
Since then, many of Snøhetta's most prominent global projects have been libraries, such as the James B. Hunt Jr. Library, the Calgary New Central Library, and The new Charles Library at Temple University. Furthermore, Snøhetta is currently working on several international library projects, such as the Beijing Sub Center Library, Writer's Library in Queens, The Theodore Roosevelt Presidential Library, and the newly announced Westchester Square Library in the Bronx.
Milano Design Week 2023
18-23 April

UniFor, Viale Pasubio 15 - Milano
CONTACT US
A team of professionals is available to respond to your design needs. Fill the form below and you will be contacted to develop a personalised proposal.