UniFor presents PRINCIPLES, the collection developed in collaboration with the architecture firm OMA.
PRINCIPLES
Principles are the basic ideas or rules that explain or guide how things take place or how they work. Laws, for example, or theorems. The organisation of space is one of the first rules of living in a community, especially in the case of public and other shared locations. It is one of the fundamentals of architecture.
The collection is composed of more than one hundred elements – in the sizes S, M, L, and XL and organised by families – which can be configured in limitless ways for working in groups or independently. Linear and circular partition elements can be linked to form reserved corners for privacy and concentration, or semi-private areas in which to meet and discuss. Circular sofas and upholstered islands, comfortable and inviting, encourage informal interaction. The entire range incorporates high-tech materials, lighting, sound insulation, and cable management.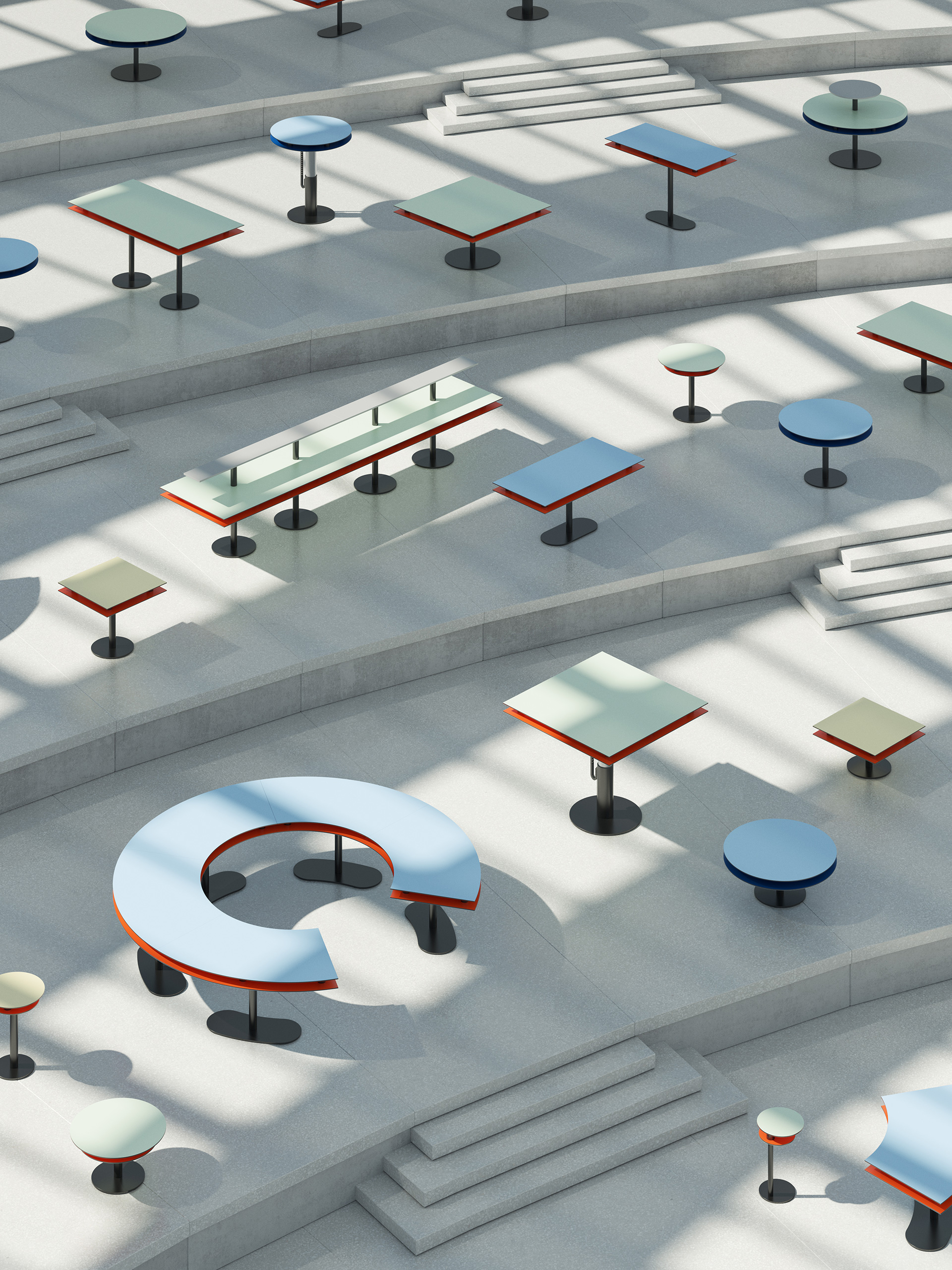 TABLES
Each piece in the collection has been specifically designed to ensure the flexibility of the workplace and to offer the maximum level of functionality. The desks and tables have double-layered surfaces for multiple uses.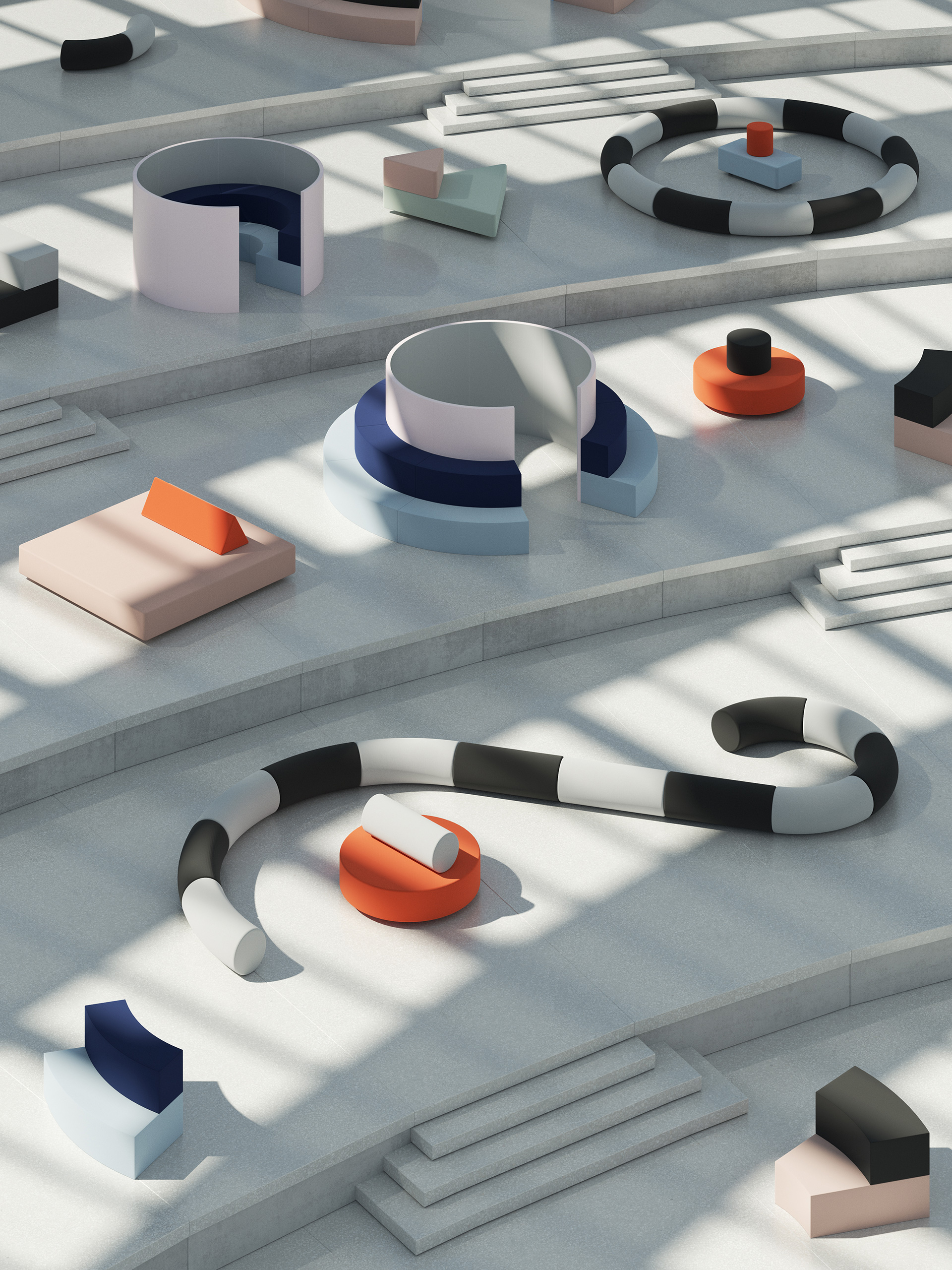 SOFT FURNITURES
Square, round, triangular and the iconic donut shape upholstered islands become places to meet and interact. The fundamental concept of PRINCIPLES is to provide furnishings that can be used by anyone, at any time, to best support the flow of operations and communications required by the contemporary workplace.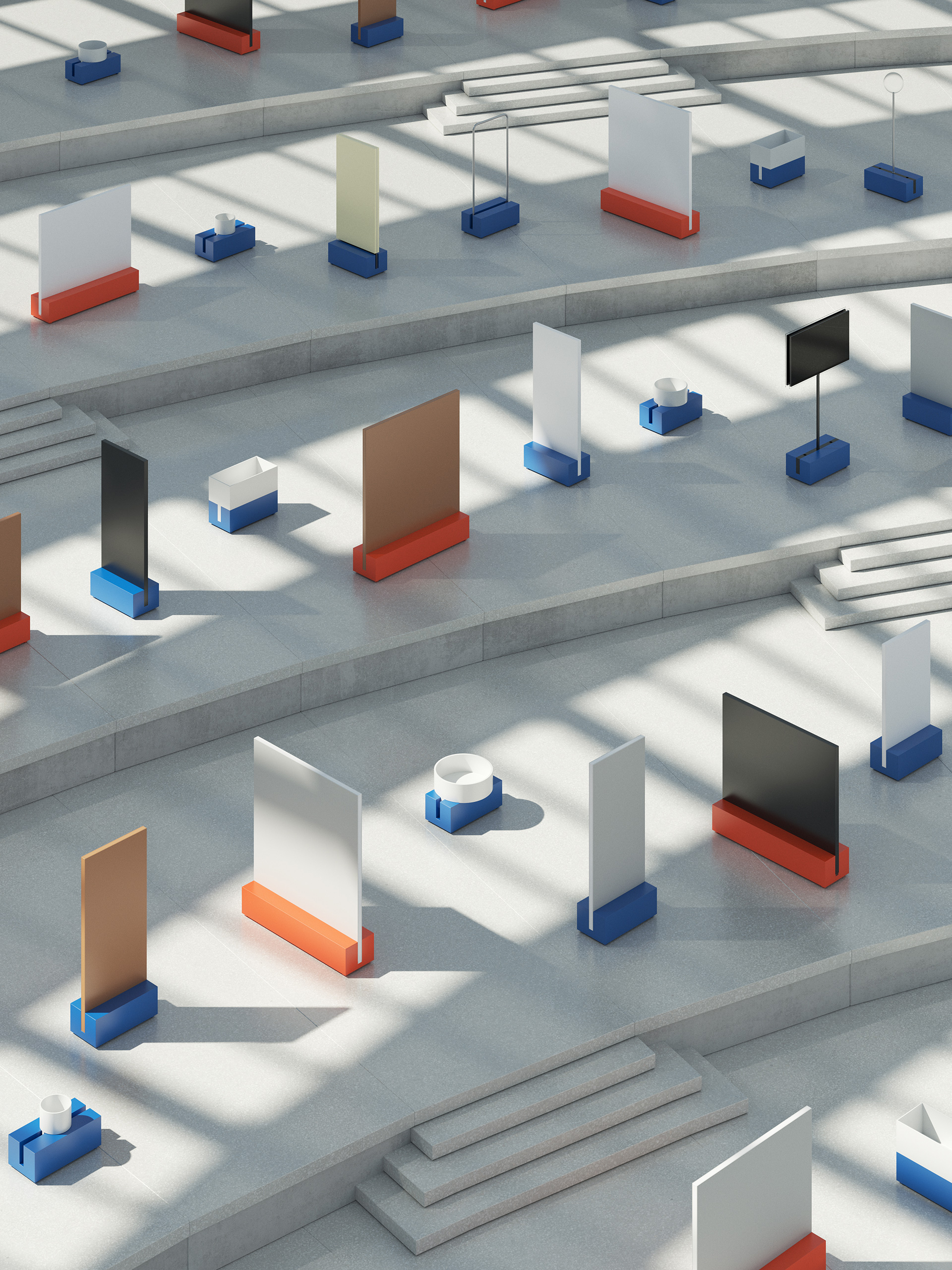 SCREENS
The screens, with their multifunctional base, become magnetic writable whiteboards, acoustic panels, audio and video supporting modules, planters, coat hangers and floor lamps.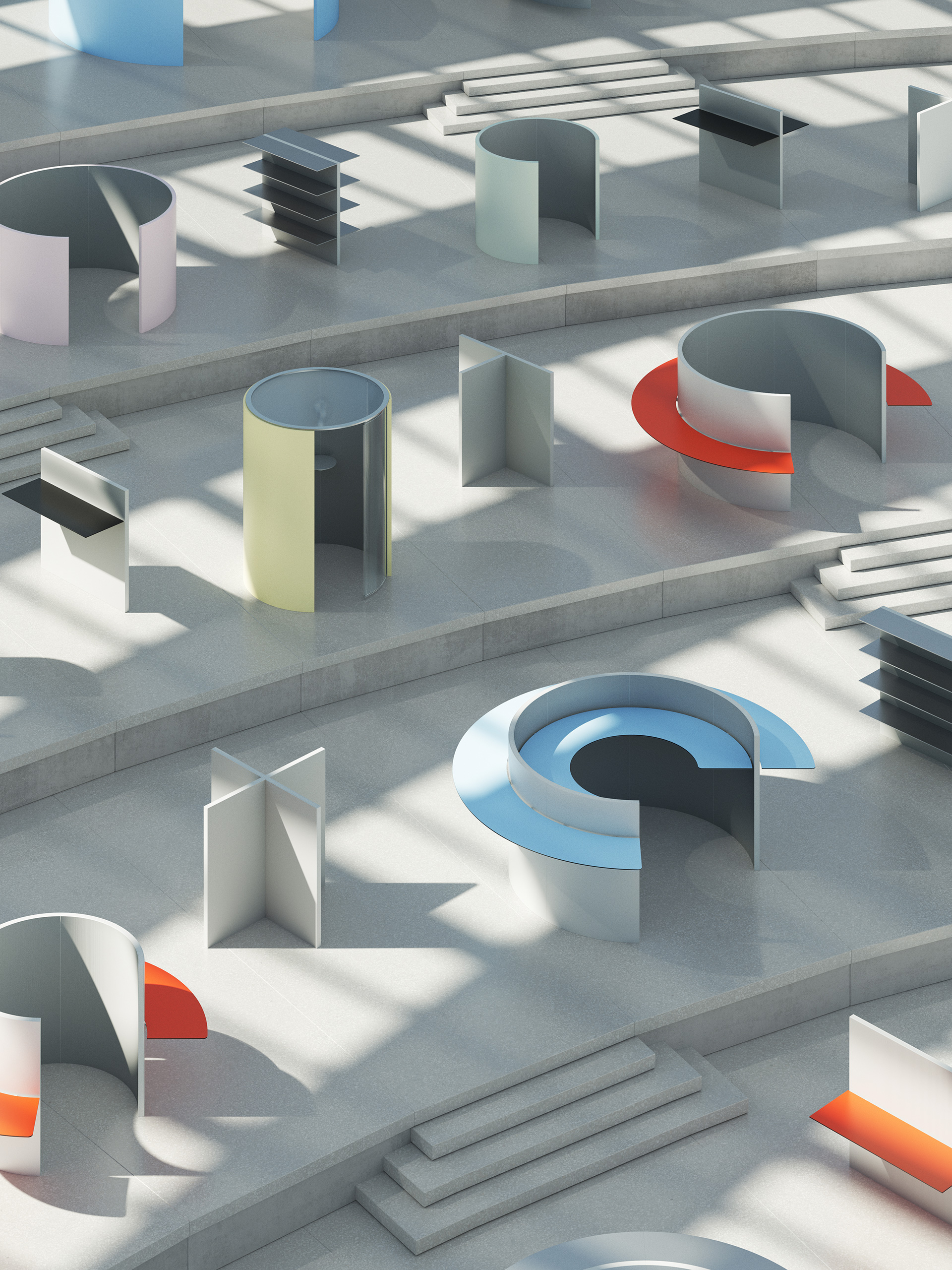 SPINES
Straight and curved partition panels in various heights canbe connected to create a backbone structure of unlimited length and shape, onto which shelving, seating, and cantilevered work surfaces can be attached as needed. The result is an interior landscape with infinite possibilities, composed of micro-architectures that provide for multiple and diversifiable functions.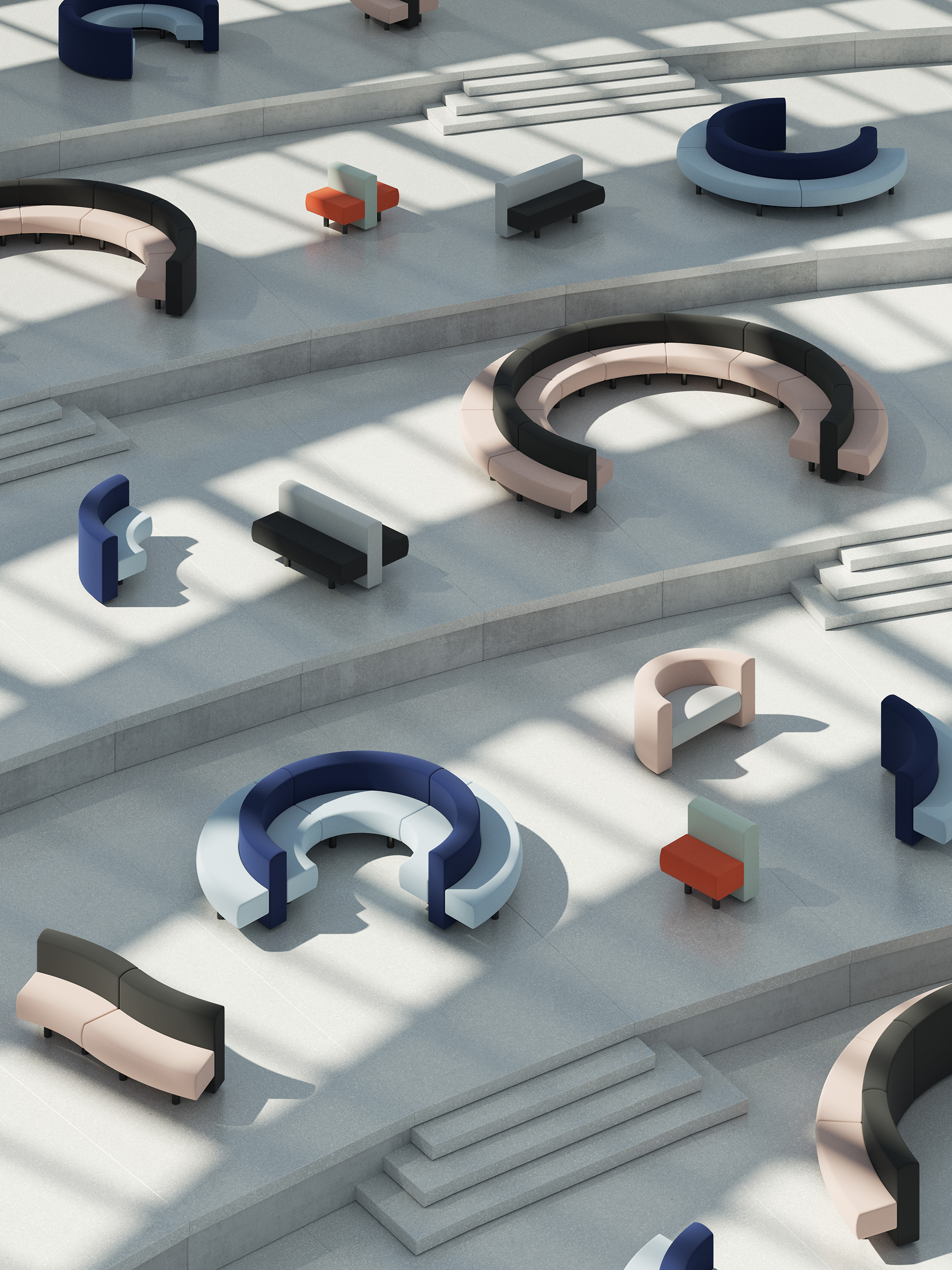 SOFAS
The seating modules, linear and curved, are joined together by an invisible connecting system to create generous sofas usable as stand-alone elements or integrated to the various spines. The furnishings are fully wired, giving users the flexibility to work anywhere in the office.
A WORLD OF COMBINATIONS
PRINCIPLES offers an infinite world of compositional possibilities for every type of space—working, waiting, meeting, or relaxing—each with its own identity configured by means of different forms, colours, and dimensions. With every element designed based on research into its precise function, PRINCIPLES offers the freedom to organise one's own space and time, one of the fundamentals of the future.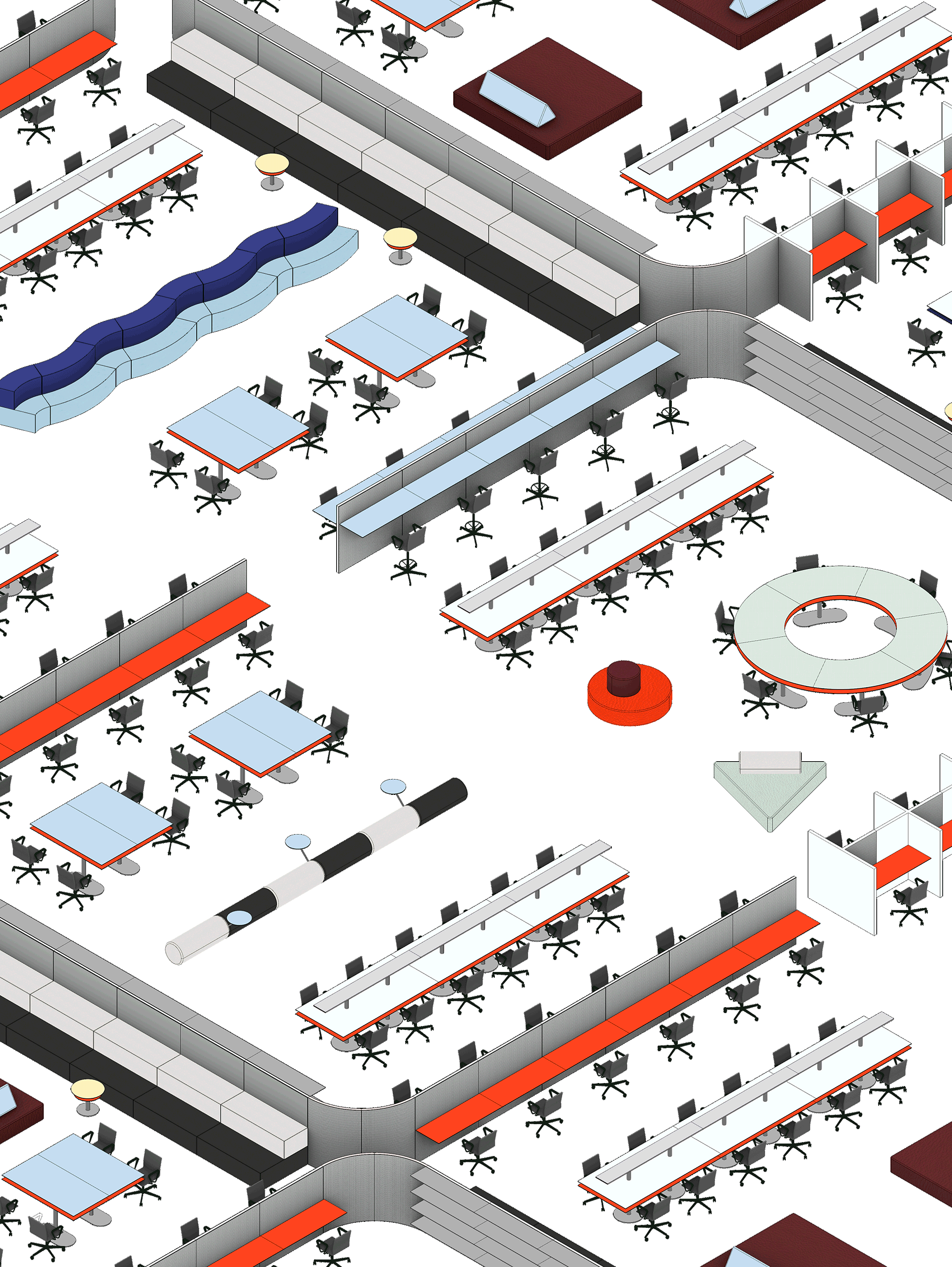 UNIVERSITY STUDY ROOM
The reading and study room is a shared learning space withuniversal requirements. Partition elements and screen panels in various configurations shape the environment to accommodate multiple functions, including areas for individual study, spaces for the exchange of ideas, and informal lounge areas. The spine, backbone of the space, becomes an essential element in creating the environment. Variably configured, with the possibility of adjoining shelves to one side and desks or sofas to the other, the spines define the boundaries of the various zones supporting different ways of studying. The atmosphere of each zone is created by the interaction between the furniture and its users, resulting in a diverse and inspiring place where knowledge accumulates.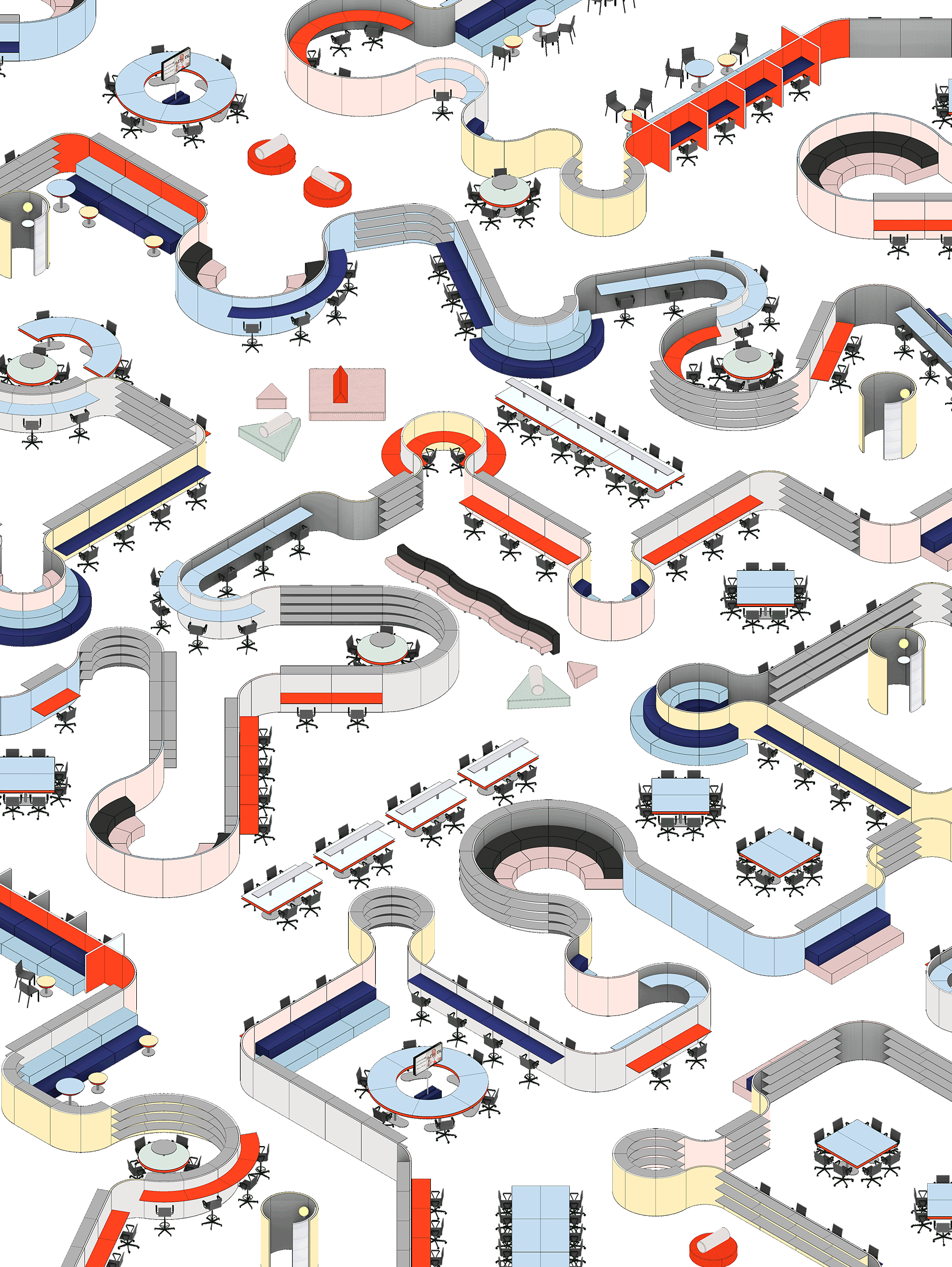 ORGANIC HYBRID OFFICE
Hybrid and flexible, the contemporary workspace can be easily reconfigured as required. This free flowing infrastructure, articulated by straight and curved partition panels, tables, soft furnishings, and sofas, permits the creation of a relaxed and fluid environment that is perfectly suited to the way we work today. The curvilinear panels—standalone or joined together—are lightweight visual, spatial, and acoustical partitions that form pockets of space in different sizes for various uses. Whether individual nooks for focused work or semi-secluded areas for smaller meetings, the spaces created by PRINCIPLES offer a variety of choices for "nomadic office" workers, allowing them to navigate freely between traditional and contemporary work habits.
TRADITIONAL LINEAR OFFICE
The contemporary office can be organised in a more traditional and monochrome manner, with meeting tables, desks, and shelves arranged in a grid-like layout in which carefully designed colour accents create "the unexpected". The elements of PRINCIPLES—distinctive in shape and colour—can be used to create special pockets of space. Whether used for hot-desking, as communal lounges, or meeting places, these areas encourage spontaneous interaction.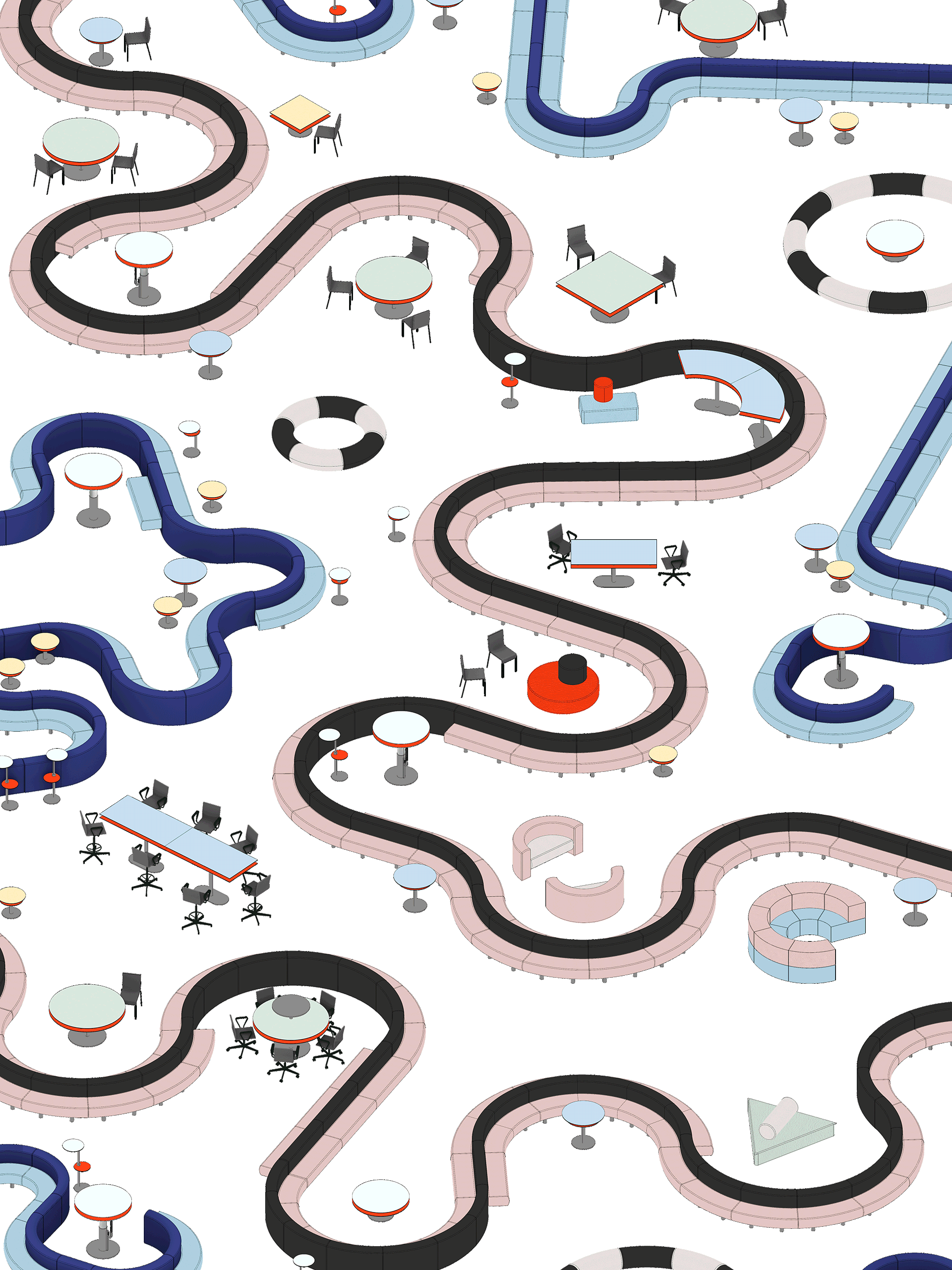 LOUNGE WORK ENVIRONMENT
More informal work environments can be created, including individual spaces as well as semi-private and shared areas for exchange. Soft furniture settings encourage human interaction and idea generation. Curvilinear sofas and cushioned soft islands in various shapes, sizes and colours are the elements of an inviting new landscape. Round tables of varying heights encourage users to grab a chair and sit down, resulting in ad-hoc meeting points for spontaneous conversations.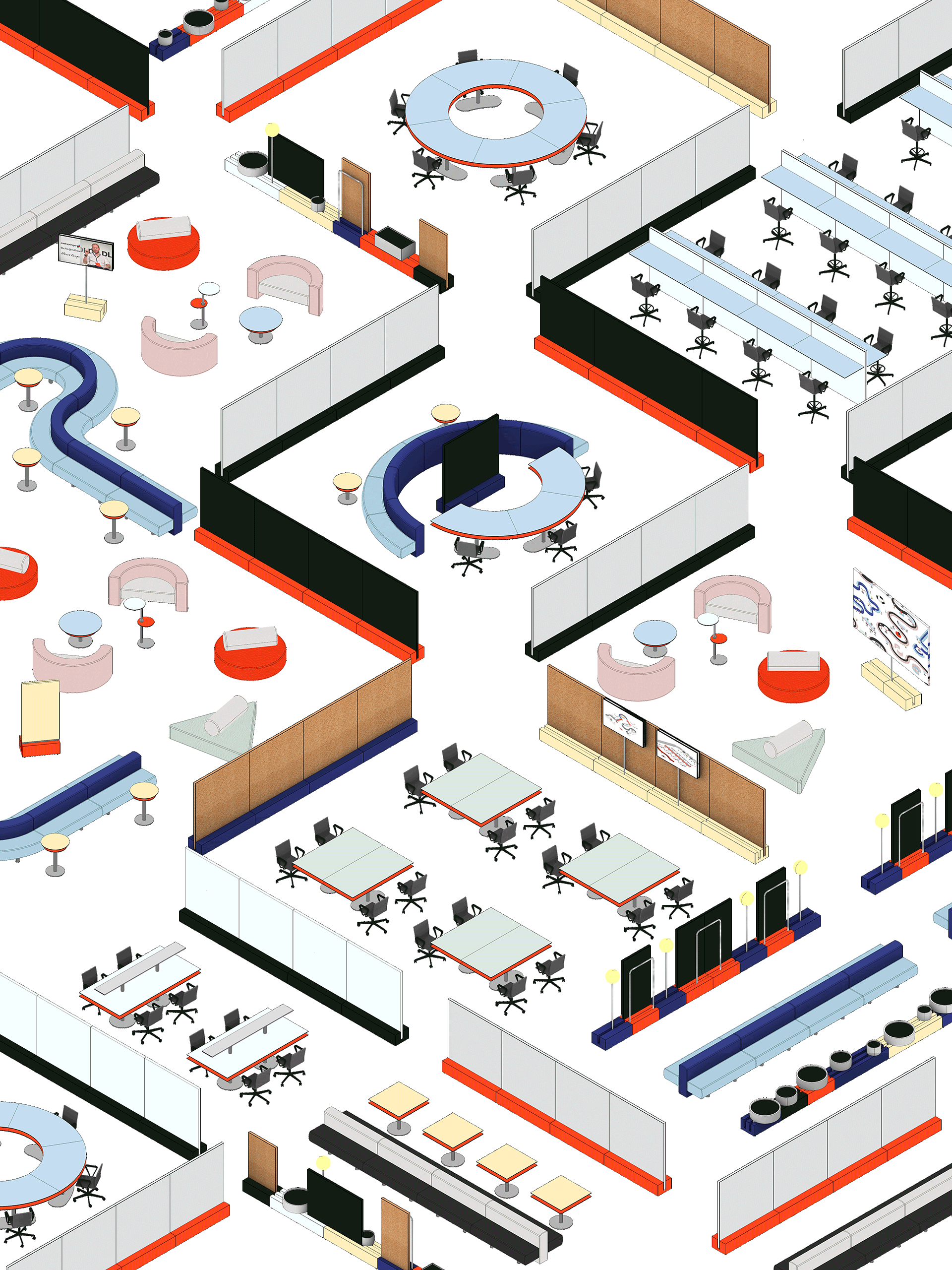 SCREEN-PANEL ENVIRONMENT
It is a world in constant motion, where shared information travel fast. Screen-panels multiply the connection possibilities. Conceived as canvases, screen-panels are the surfaces of infinite possibilities. The central focus of any workspace, with ever-changing information or projection on images on display, screen-panels can also recede into the background when switched off, while continuing to serve as spatial partitions. They can also become whiteboards, where ideas can be discussed and erased. A screen-focused environment is ever-changing—constantly awaiting definition by its users.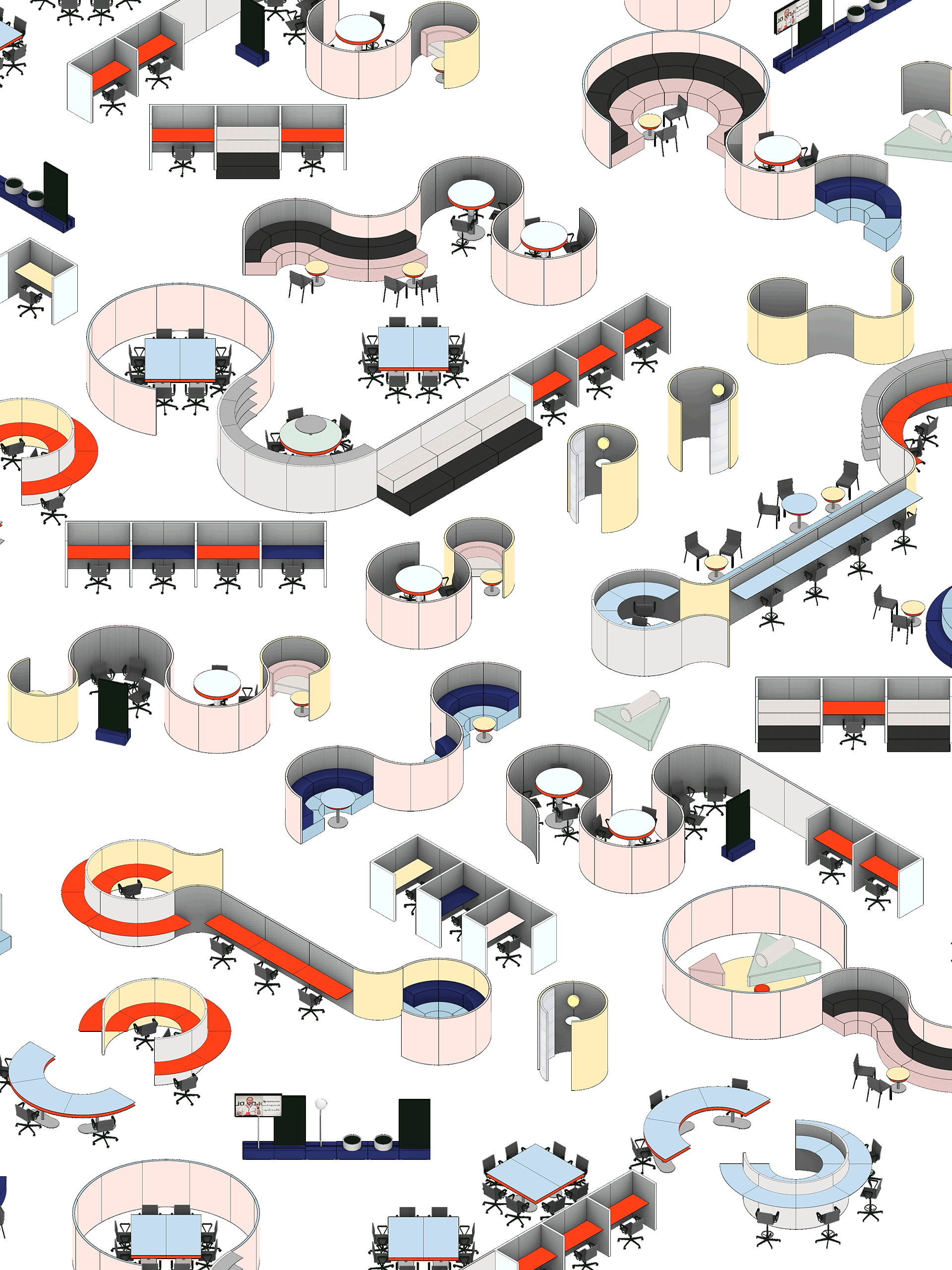 FOCUS POD ENVIRONMENT
A focus pod configuration can be freely composed in infinite ways. Circular elements and cylindrical meeting pods create the fluid spaces of the new ways in which we work and communicate. Standalone pods offer secluded work spots for individuals needing a momentary place for focus work. Larger pods made with curvilinear panels joined together, create semi-enclosed spaces for groups, to interact more effectively. All PRINCIPLES wall panels are embedded with acoustic materials. An assembly of pods offers the convenience of switching between a variety of different functions and scales. These fluid forms give shape to the new work environments.
THE INSTALLATION
Designed by OMA with UniFor, the PRINCIPLES furniture collection offers a modular system that gives users the freedom to define their own workspace. For Milano Design Week 2022, OMA has taken over UniFor's new showroom in Viale Pasubio as a site offering a glimpse into the myriad combination possibilities provided by the collection. The showroom extending from the indoor space into the courtyard has been reimagined a series of scenes at work. Furniture from the different families of the collection – ring-shaped sofas, donuts and soft islands – together with elements of the showroom architecture define unexpected settings for working or lounging, for staff and public use. Moving between the interior and exterior spaces of the showroom, visitors experience an ever-changing landscape discovering new possibilities to make work – alone or in groups – pleasurable.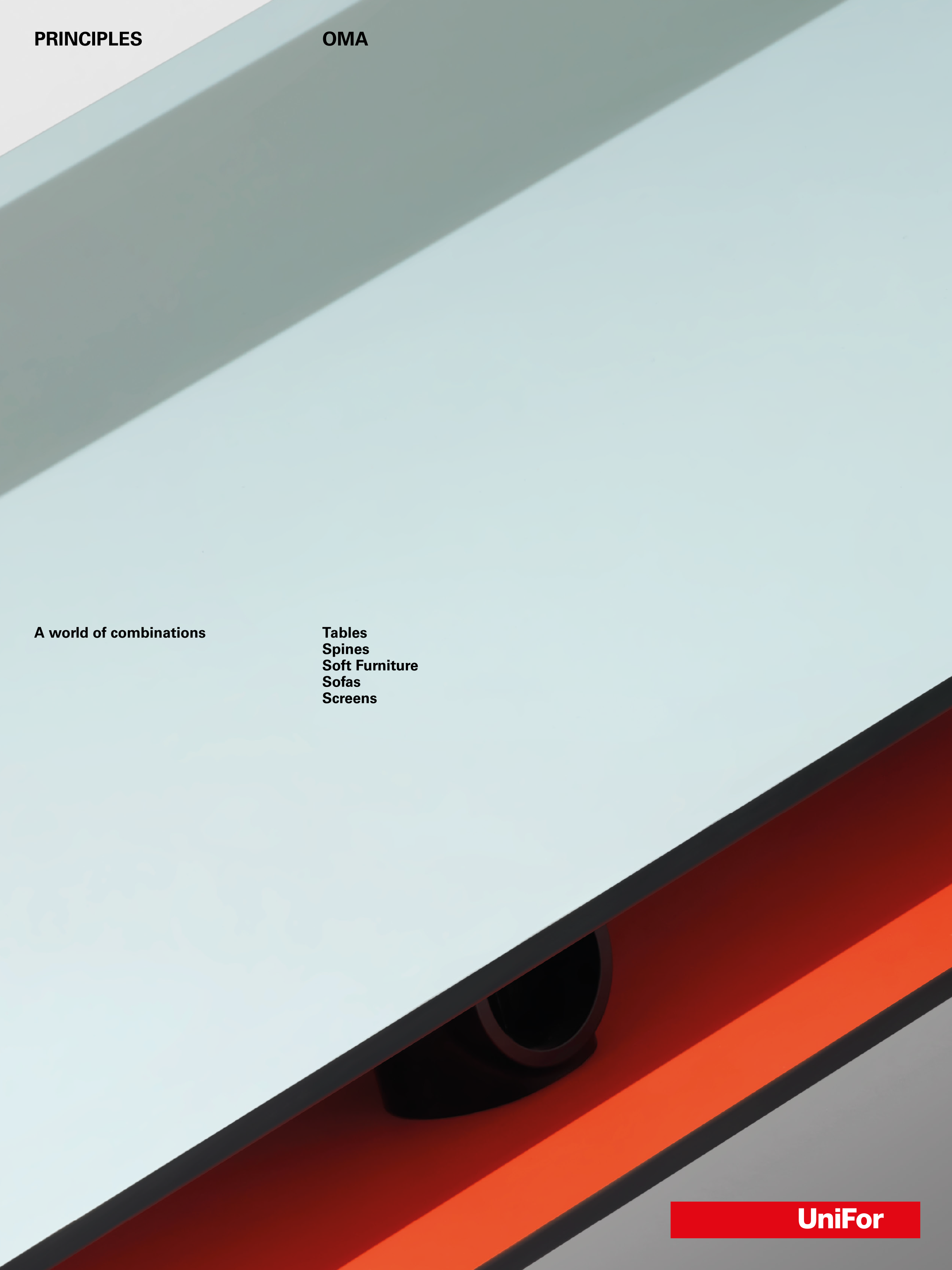 THE EDITORIAL PROJECT
The collection also features an editorial and communication project curated by Studio Klass, in collaboration with exceptional professionals: Studio OMA for the illustrations, Francesca Molteni for the copywriting, Amos Fricke for the photography, Bloomrealities for the CGI and Nicola-Matteo Munari for the graphic.
OMA
OMA is an international practice operating within the traditional boundaries of architecture and urbanism. OMA is led by eight partners – Rem Koolhaas, Ellen van Loon, Reinier de Graaf, Shohei Shigematsu, Iyad Alsaka, Chris van Duijn, Jason Long, and Managing Partner-Architect David Gianotten – and maintains offices in Rotterdam, New York, Hong Kong, Doha, and Australia. OMA's completed projects include Axel Springer Campus in Berlin, Sotheby's Headquarters in New York, Fondazione Prada in Milan, la Qatar National Library in Doha.
Close collaboration between two outstanding enterprises, OMA and UniFor, has resulted in an exciting new collection characterised by simple yet rigorous forms, meticulously designed and well-positioned to open new frontiers of discussion on the future of the workplace.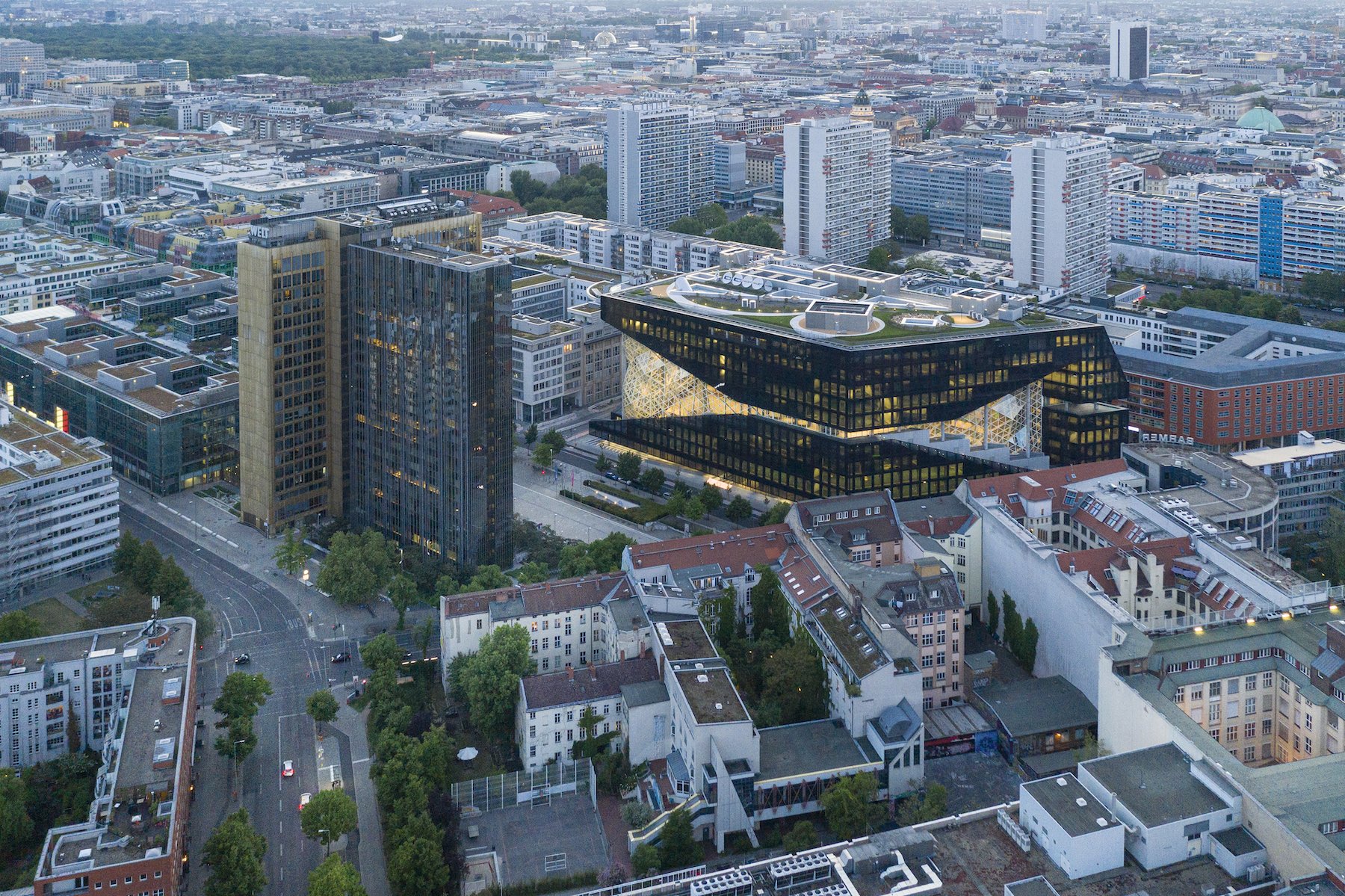 THE ORIGINS OF THE COLLECTION
In the best tradition of the brand, the path of research and product development that led to PRINCIPLES collection began in 2018, when OMA and UniFor collaborated on the design of the furniture for the common and lounge areas of the new headquarters of Axel Springer, international media company based in Berlin.
CONTACTS
PRINCIPLES collection is designed with the flexibility of places and the well-being of people in mind. A team of professionals is available to respond to your design needs. Fill the form below and you will be contacted to develop a personalised proposal.